Exams on their way and there is no way you are able to study in your dorm because of all the mess of yourself/roommates or too many questions from your mom? We put together a few student-friendly places to go and study.. so you will stay on track.
SEATS2MEET
Inside, it's even better
One of our favorite places to study is SEATS2MEET. It is located on different cities all The Netherlands. In Eindhoven there are three locations. Our favorite one is located at the Apparatenfabriek at Torenallee, Strijp-S. Seats2meet is a space where freelancers, companies etc. can book spaces for meetings or presentations. But also a space where people can sit and just do their work. If you want to work here, all you gotta do is put a little a social invest on your profile. Add some information about yourself, what you do, and your specialities. Say if you are a copywriter (to be), people can connect with you. Or if you have skills in online marketing the same. It might also come in handy for yourself as student to contact people already in their workfield. But you can also just mind your own business and work do the hardest work out for the student: study your brains out. Opening hours: 9am – 6pm
Student Hotel Eindhoven  
A little piece of home everywhere
If you stayed here for a night or two or maybe a year, you probably know The Student Hotel has got a great place where you can just sit and study. In this area you can bring your own beverages – but make sure you will clean afterwards. Make sure you won't leave your stuff without supervision. It is also possible to work in the restaurant. (Not allowed to bring your own beverages because you can order over there). Want to do more than study at The Student Hotel? Like setting up meetings etc. You can book one of the two classrooms, the auditorium or the boardroom.
OPENBARE BIBLIOTHEEK EINDHOVEN,
Witte Dame – Library
Almost at home
The library in Eindhoven can be a place where you can focus on your study materials. They offer yummy tosties (toasts/roasted bread), chai lattes and more on their menu in their cafe so you can keep on going becoming the best student you can be. But you can also bring your own food. If you need a break you can wander off in the book shelves. But don't lose yourself (and your stuff so don't keep them without supervision. We know there are a lot of students who are easily distracted by their phones, and so do the library cause they offers the program "Study Share". In the Theater of the library you will study 3 times 45 minutes with a 15 minute break (obliged!) Studybob will keep an eye on you.
Opening hours:
Mon 12 – 6.30pm
Tue – Thu 10am – 6.30pm
Fri 10am – 9pm
Sat 10am – 5pm
Sun 1pm – 5pm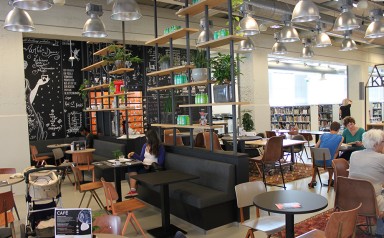 USINE CAFE
Books & coffee, what else ?
One of the popular places where students work is Usine. A lot of people come here so if you don't mind working with the usual sounds of a restaurant you can work here. During the week can study here till 01.00 am. So if you want to work till late, you can study here!
Opening hours:
Mon -Fri 10am – 12pm
Sat – Sun 10am – 1am
VERSHAL HET VEEM
Tasty work break
Vershal t Veem is a place where you can eat, do your groceries. But it is also a nice place where you can sit and study. In the building there are different tables and cornors where you can mind your own business. In the middle there is an area where you can sit and have to buy from the local places. You can drink a bubble tea, or matcha tea from the tea store, eat a delicious soap from SOEP or a nice Couscous meal to keep on going. Opening hours:
Mon – Sat 8am – 8pm
Sun 12am – 8pm